The Resort Housekeeping Leader
MasterCorp specializes in turnkey resort housekeeping, providing over 2 million cleans annually.
Mission: MasterCorp consistently sets the standards for the resort housekeeping industry.
The MasterCorp Advantage
A clean, well maintained vacation unit is the home base for the guest experience.  A resort partnership with MasterCorp provides a level of performance and consistency that turns resort guests into fans.  
  Before you is a path to better understand the Advantage we provide to the resorts we serve.  You can explore Who We Are, What We Do, and Why more than one hundred premier resorts have partnered with MasterCorp.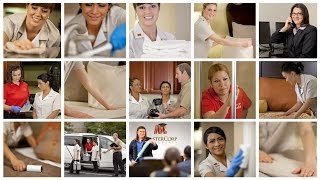 MasterCorp provides turnkey resort housekeeping services for premier resorts across the nation.
My MasterCorp
On this web site you can explore career opportunities with MasterCorp, browse the helpful housekeeping management articles in our newsletter archives, and request a housekeeping services analysis and proposal.  
Hopefully, My MasterCorp can become your MasterCorp.